R.E - YR w/c 18th May
Good News
This week's focus is on the story of Pentecost.

Read through the below text, with your child. Gods Story 2 - Pg 84-85
Remind children this is 'scripture' - the word of God - taken from the bible.
We hear in the story of Pentecost that:
Jesus returned to Heaven but promised not to leave the Disciples alone.
The Holy Spirit comes down as a flame and touches the Disciples on the head.
Disciples spread Good News 'He is Risen'
The people were filled with joy, peace and happiness - after the 'Good News' - Jesus had kept his promise to send the Holy Spirit.
Think and talk together:
What could you do for others this week that would fill them with joy, peace and happiness?
Who does this for you at home? What do they do?
Who would do this for you in the wider community? Think about the church, NHS, schools etc...
Activities - choose one to complete
Activity 1: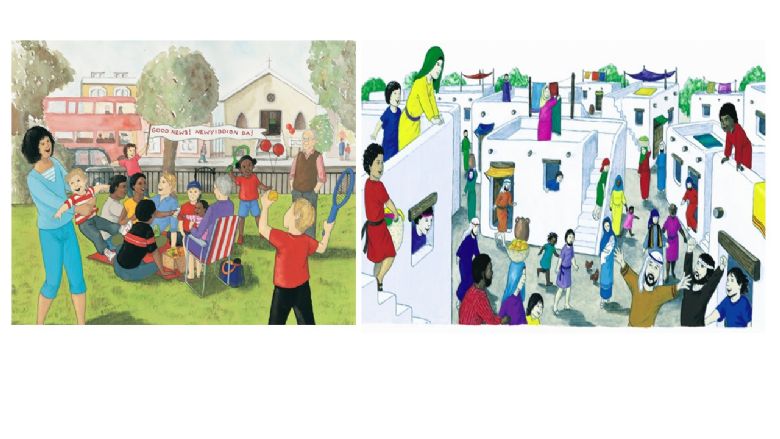 Think about:
What do you see in the picture?
Why are the people celebrating?
How are the people celebrating?
What similarities and differences do you notice?
In your families, talk about how you celebrate receiving Good News?
Activity 2:
We celebrate good news in many different ways.
One way you may have noticed people doing this recently is by clapping outside of their homes or creating rainbows for others to see. They are celebrating the Good News that our nurses and doctors are working as hard as they can to help people.
Make a streamer/a poster (or come up with another creative idea) to share the 'Good News of Jesus' with everyone and for others to see.
---
Our Class Prayers
You could also practise our class prayers with your grown ups
Morning Prayer
Oh my God, you love me.
You're with me night and day.
I want to love you always, in all I do and say.
I'll try to please you Father, bless me through the day.
Amen.
Lunchtime Prayer
Bless us O Lord as we sit together,
Bless the food we eat today.
Bless the hands that made the food,
Bless us O Lord.
Amen.
End of the Day Prayer
At the end of the day, we sit and say.
Thank you God for a lovely day.
We tried to be good, for we know that we should.
And that's our prayer,
at the end of the day.
Amen.