Open Morning Tours
Open Morning Tours - September 2022 Reception Admission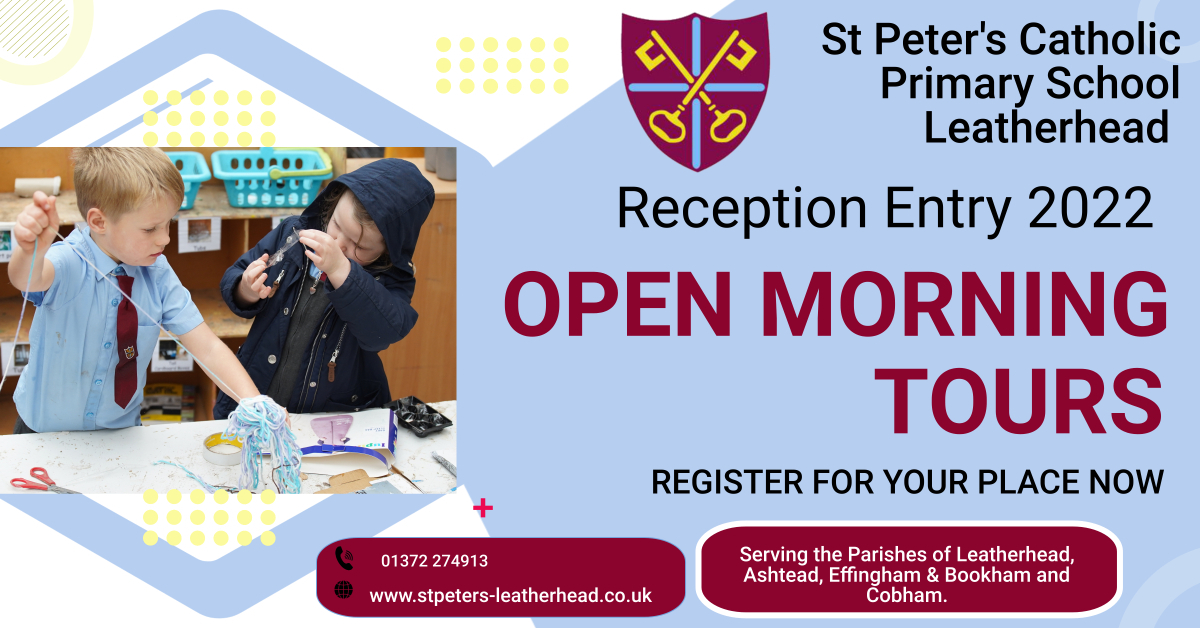 We know that choosing the right school for your child can be one of the most difficult decisions you will make as a parent so we are pleased to announce a series of open days for parents who are considering our wonderful school for their child's first steps on their learning journey.
If you are considering applying for a Reception place at St Peter's for your child in September 2022, then you are very warmly invited to book a place on one of our Open Morning Tours and come and experience what makes our school special.
Being mindful of social distancing, we have changed from our traditional Open Morning event to a series of tours for smaller groups, led by a member of the Senior Leadership Team. Each tour will last for approximately 45 minutes and will give you a chance to see all of popular and successful school.
Groups are limited to 6 adults. We ask that you reserve a place for each adult in your party. We are not able to accommodate buggies in school, so recommend that on this occasion, young children do not join us.
There are two tour times: 9.15am and 10.30am.
Our entrance area is fairly small, so we ask that you either wait outside for the tour to start or arrive just in time.
Open Morning Tour Dates:
Monday 18th & Tuesday 19th October
Monday 1st, Tuesday 2nd, Wednesday 3rd, Thursday 4th & Friday 5th November
Monday 8th & Wednesday 10th November
Monday 15th & Thursday 18th November
Reserve your place here: https://www.tickettailor.com/events/stpeterscatholicprimaryschool2/586222
If you have any questions, or would like more information, please contact the school office on 01372 274913 or office@stpeters-leatherhead.surrey.sch.uk who will be happy to help you. You can also find more information about the admissions process on our school website.
We look forward to meeting you soon.