Active Play - PlayPod
PlayPod
The PlayPod is an active play resource for lunchtime, which was jointly funded by the FOSP and school. It is filled with clean, safe, open-ended materials that children can use in an endless variety of ways to enhance their active play.
Children from all year groups can access the PlayPod at lunchtime and you can see from the pictures below how active they are and how much they enjoy using the resources, making some really creative structures and developing great play narratives.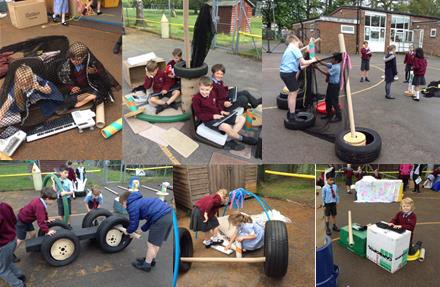 As with any resource that is well-used, we need a regular supply of resources to keep the PlayPod fresh. Many of these come from our subscription to the ScrapStore, who provided the PlayPod but we always welcome donations of the following:
Things that could inspire dressing up:
Dressing up costumes for any age, hats or fascinators, scarves or pashminas etc
Waistcoats, suit jackets (ladies or men's)
Handbags, briefcases etc
Things that could inspire other imaginative play:
Suitcases (zips still working please so that they can secured close)
Phone handsets, keyboards, old cameras etc
'Old style' mobile phones (with buttons not smart phones with touch screens please!)
Things to make dens with:
Duvet covers
Old sheets
Cushions
Please make sure that anything you donate:
Is clean. If you can wash costumes, clothes or sheets before donation that would save us a job!
Is in good condition. Please check that zips work, that there are no rips, tears, sharp edges etc.
Is safe. Please don't donate things that could trap little fingers, or that could pose a choking hazard. (we will also thoroughly check all donations)
Please bring any donations to the school office, Thank you.