Covid-19 Information
UPDATED 24th Febuary 2022
Earlier this week, the Prime Minister launched the Government's 'Living with Covid Plan'. Following this, we have received advice from both the Department for Education and Surrey County Council and I would like to share the key messages of these changes and outline the impact for our school community.
Children who are unwell
All pupils and staff should attend school if they are well enough to do so. They should stay home if they are unwell. Painkillers such as Calpol can potentially mask an infection so if your child has a high temperature, for example, please do not send them to school after administering Calpol or any other painkiller.
What to do if your child shows symptoms of Covid or tests positive?
The Government has removed the legal requirement to self-isolate following a positive test. However, adults and children who test positive continue to be advised to stay at home and avoid contact with other people for at least 5 full days, and then continue to follow the guidance until they have received 2 negative test results on consecutive days.
If a child or staff member has COVID-19 symptoms, they should stay home, book a PCR test and avoid contact with other people if the test proves to be positive.
If your child tests positive, their self-isolation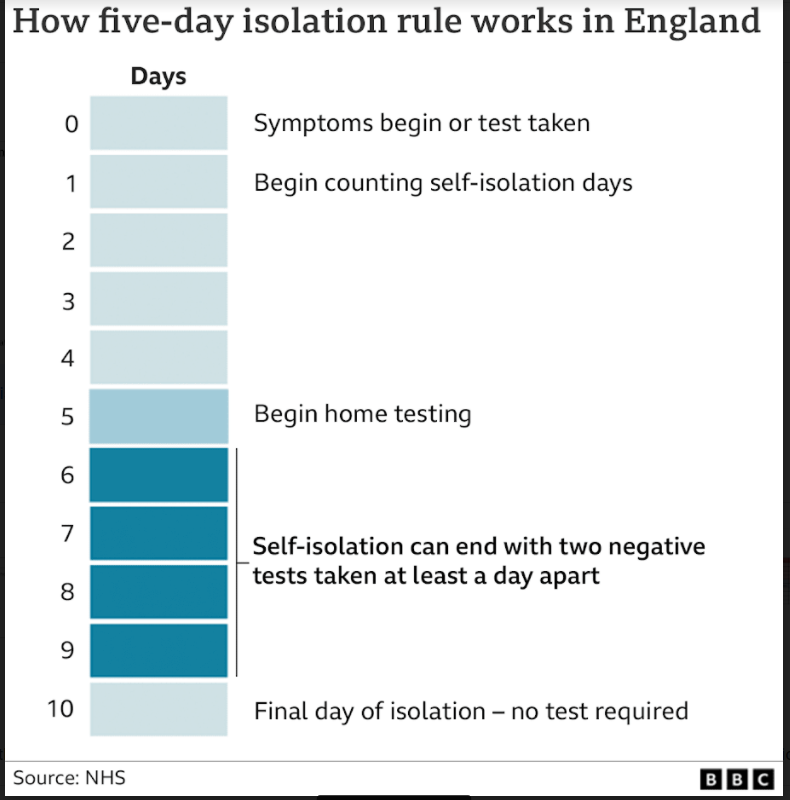 period includes the day their symptoms started (or the day you had the test, if they do not have symptoms) and the next 10 full days. They should remain home for at least 5 full days and continue to follow the current self-isolation guidance. They can do a rapid lateral flow test from day 5 up to day 10 of the self-isolation period (but not before) and another test the next day.
They can stop self-isolating if:
both tests are negative
you do not have a high temperature
What if a member of our household has Covid?
From today, the government is no longer asking fully vaccinated close contacts and those aged under 18 to test daily for 7 days, and has removed the legal requirement for close contacts who are not fully vaccinated to self-isolate. Therefore, your child should continue to attend school, even if a member of their household has tested positive for COVID or if they have been in close contact with a person that has tested positive for COVID.
Remote Learning:
If your child receives a positive result and is well enough, then work will be provided for them. For the first day, this is available on the school website. https://www.stpeters-leatherhead.co.uk/page/?title=Remote+Learning+at+Home&pid=405 and after this will be through Tapestry (for children in EYFS & KS1) or Google Classroom (for children in KS2). If you have any issues accessing home learning, please contact your class teacher.
Support for families:
If you are in receipt of benefits related free school meals and your child needs to isolate because of a positive covid result, please email Mrs Clegg on admin@stpeters-leatherhead.surrey.sch.uk who will be able to issue supermarket vouchers to the value of the school meal for any isolating child.
What changes will be made at school?
The children should not notice any major changes to day to day operations. We will continue to ventilate the classrooms and ensure the children wash their hands regularly during the day. We will continue to encourage them to 'catch it, kill it, bin it' if they cough or sneeze. If your child is unwell, we will contact you to collect them as we would for any other illness.
Staff are no longer required to wear masks in communal areas but some may choose to do so if they have a particular medical vulnerability. Staff are no longer required to take part in twice weekly asymptomatic testing.
We are looking forward to restarting whole school assemblies and acts of worship. We are also pleased to be able to remove restrictions on parents and carers attending school events such as liturgies and information sessions and are hopeful all these events will go ahead as planned without further interruption. We are also delighted to be able to return to face-to-face Parent's Consultations and more information about this will be sent soon.
Our morning routine has worked brilliantly over the last 18 months, with a smooth flow of children coming into the building and parents moving around the site in the morning. We will therefore keep this system in place permanently. We ask that you continue to use the one-way flow, as this has really helped with congestion at the double gate, especially at peak drop off and collection times.
A final thought
A sign of a strong community is that we pull together in the most challenging circumstances. As always, the strength of our St Peter's community and your support for the school has been clear over the last two years, and is much appreciated.
---
Remote Learning Review - February 2021
We asked parents three questions about remote learning:
What has gone well?
What are the challenges?
What can we do to help and support remote learning?
Thank you to all the parents that completed our Online Remote Learning survey, we had an amazing number of responses spread across each stage of our school. The overwhelming majority of responses were very positive and complimentary about our provision and I thank you on behalf of my staff for the recognition of the amount of work that they have, and are putting in to making our offer so successful. We've made a short video explaining the main points for parents, and you can view that here, you can also find the full review document below for you to read at your leisure.
Further Information and copies of communications for parents about Covid-19 sent out can be downloaded below: