Friday Celebration Assembly - 22nd May
It is Friday 22nd May - Welcome to Celebration Assembly
It is our last celebration Assembly this half term and we have a lot of wonderful things to share with you - enjoy!

Children's Work
Please click on the gallery to the left to see our brilliant work.
Don't forget that your parents can send in examples of your work, or a special mention to Mrs McDonnell each week, which will be included in our gallery.
Congratulations Bella!
Mrs McDonnell has chosen Bella for a special mention this week
Bella decided that she wanted to try and achieve a Green Blue Peter Badge for her interest in environmental issues. She created an artwork of our Ocean with sea creatures, found a variety of plastic items such as straws, bottle lids, wire and stuck it onto her artwork. She labelled the artwork 'Help save our Oceans'. Here she is with her Blue Peter Green badge 👏👏👏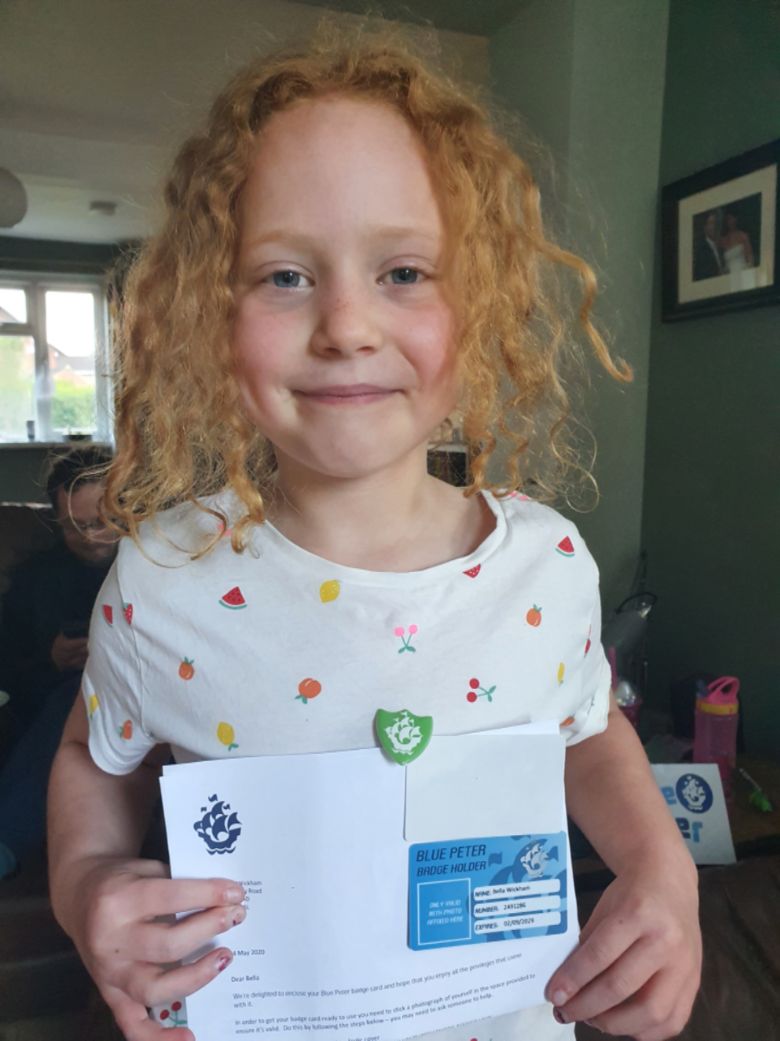 What an amazing achievement - Well done Bella!
Congratulations Sophia & Ben!
Miss Scott has chosen Ben and Sophia for a special mention this week.
On 26th April 2020, Sophia and Ben undertook the '2.6 challenge'!
Their challenge was to cycle (Sophia) and run (Ben) 2.6 miles 2.6 times.
They completed their challenge in 1:14:51 and raised an incredible £330 for the Epsom and St. Helier Hospitals charity. Whilst out cycling and running, their Dad told them about a team of 10 work colleagues who were running the distance of a marathon between them for their 2.6 challenge. This inspired Sophia and Ben to go out on 3 more consecutive weekends to see if they could cover this distance too.
On 17th May 2020 they completed their marathon which had included
cycling/running up Box Hill!
What a magnificent achievement - well done to you both!
#ThankATeacher Day
Thank you to all the children and families who sent emails, pictures and video messages to their teachers for #ThankATeacher Day on Wednesday.
We especially loved this Thank You for the whole staff from Y4.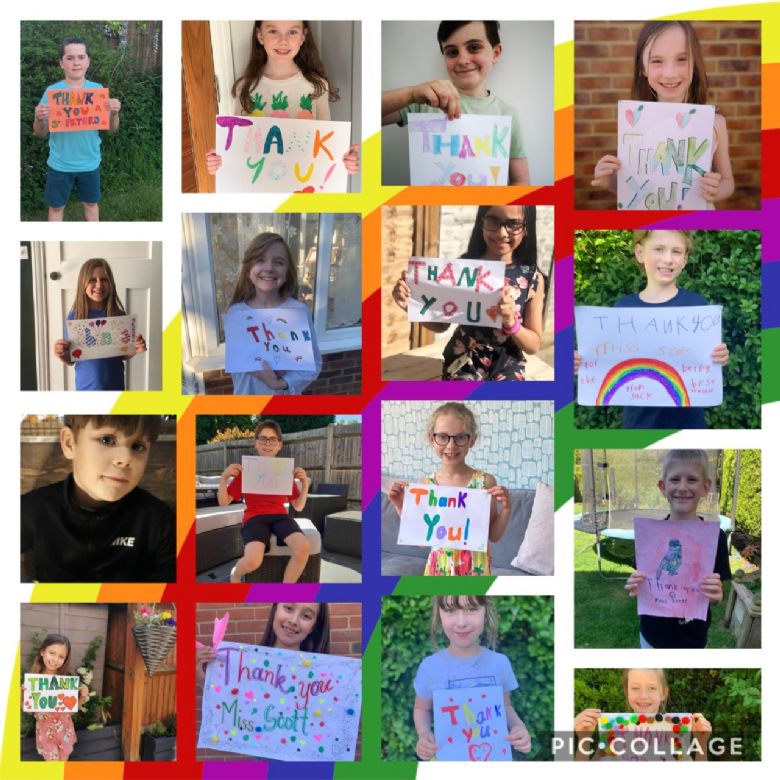 And this lovely card for Mrs Williams from Oak Class
Mary's Moments
Miss Devlin explains more about Mary's Moments.
Her email adress is jess.devlin@stpeters-leatherhead.surrey.sch.uk
Hold Still
As some of you may already know the Duchess of Cambridge recently launched a project called 'Hold Still' with the National Portrait Gallery. The aim of this project is to create a portrait of our nation in '2020'.
This is an opportunity to be a part of history and unleash your creativity. We think this is a brilliant project and would love for as many children and adults from our school community to take part as possible!
To enter you must submit your own photographic portrait, taken during these extraordinary times to www.npg.org.uk/holdstill by the 18th June 2020.
Super Shout-Outs
Maple Class
I hope you have had a fantastic week in the beautiful sunshine. Thank you all again for the wonderful work you have shared with me on tapestry. You are all working so hard and I am so proud of you all.
The children who I am going to mention this week are.....
Christopher, who has been working really hard at home with his writing, particularly his letter formation and has also done some brilliant Maths!
I am also going to mention Stanley who sent me a beautiful letter/ card into school last week it certainly made me smile.
Thank you also to those of you who have been sharing your 'Show and Tell' with us all. There is still lots of time if you wish to share yours with the rest of Reception, simply upload your video to tapestry and I will repost and share.
It is half term next week so I hope you all have a wonderful break, hopefully the sunny weather will stay with us!
Very best wishes to you all and your families.
With love from Mrs Bolden xx
Willow Class
Hello everyone, you have all been so amazing this week! Well done on all your phonics and Superworm work. I've loved seeing your show and tell videos too.
Have a lovely half term and I will see you soon!
Love from Miss Moon
Ash Class
Happy Friday Ash class!
Well done for being superstar learners again this week! I loved seeing all your wonderful 'show and tell' videos too! It is always lovely to hear and see what you have been doing at home. Keep it up AMAZING ASH CLASS! I hope you all have a wonderful half term too! Keep smiling and having fun! J
Shout outs this week…
Sofia for sharing her love with all her friends and teachers by singing a beautiful song all about LOVE!
Isla for her excellent work in her daily diary and her brilliant 'show and tell' about her gymnastics!
Lewis for his super phonics exploring 'ee' and 'ea' words!
Oscar for his brilliant phonics working practising split digraphs!
Jasmine for her amazing home learning- super sentences, phonics, maths, planting seeds, riding her bike and for sending special thank you messages to her teachers!
James for being extremely thoughtful by writing a thank you card to his teachers!
Niamh for being a Numbots superstar earning nearly 20000 points after completing lots of maths activities!
Claudia for her creating a very thoughtful and colourful picture for her teachers!
Emma for all her super experiments at home and for reading lots and lots!
Amelie for creating a wonderful poster thanking her teachers this week and continuing to work hard at home!
Oak Class
Well done Oak class for another brilliant week of home learning! I know you have all been working hard and also having fun in the sun. Many thanks also for all the lovely Show and Tells you have shared! I have really enjoyed watching all the videos.
So this week I am giving a shout out to all the Show and Tell superstars!!
Zachary, Rosie, Maddie, Ellis, Joseph, Leo, Tom, Elise, JacobB, Ola,Isabelle
You have all made smile
😀
Rowan Class
Hi Rowan Class!
I hope you all had a brilliant week! Thank you so much for all of the wonderful 'Show and Tell' videos that have been shared with me this week. I have really enjoyed watching them and I am sure all of your friends in our class have to!
This week I would like to give a special shout out to:
Callam for super effort in all of his home learning!
Toby for his fantastic fact-file about Florence Nightingale!
Liam for his brilliant presentation about NHS nurses!
Daniella for great effort with her maths home learning!
I am so proud of all of you Rowan Class!
Have a lovely, sunny holiday! 🙂
Beech Class
Hello Beech Class!
I hope that you have had a fantastic week!
Thank you so much for sharing some of the brilliant learning that you have been up to this week.
The children that I would like to mention this week are:
Freddie, Riley and Alex for designing their own islands. Their islands were well designed, colourful and they even included keys.
Zachary for doing some brilliant Maths with his sister Ellerie. They created their own Super Worm and investigated the best way in which to measure it.
Maximilian for doing some brilliant writing about what he would take on journey to the moon and for also creating a fantastic Easter and Pentecost Lego scene.
Alice and Erin for creating excellent fact files about Florence Nightingale.
I have also enjoyed sharing your Show and Tells that you have been sending me. I look forward to sharing more of your Show and Tells!
Well done for another week of great learning Beech Class! I am so incredibly proud of you all! Please keep on sharing your learning with me on Tapestry or alternatively by emailing me any of your work. It really does makes me smile when I hear from you all.
Have a fantastic half term holiday! Stay safe, keep smiling and enjoy this beautiful weather!
Love from Miss Shaw x
Elm Class
Hello Elm Class!
A HUGE well done for all of your work this week! It has been so lovely to see even more of you uploading your work on to our google classroom and writing great encouraging comments for your class mates.
There are 2 children I would like to give a special shout out to...
Lexie - For her brilliant role play work as a paramedic - you looked quite the part in your uniform!
Maddie - For her excellent role play as a doctor performing an x-ray on her little sister (I hope she eats more fruit now!)
Some of you may have seen that I have set you all 10 studio games to play on TT Rock Stars for half term. Well done to those children who have already done them!
I hope you all have a great half term!
It would be brilliant if some of you took part in my 'Mary's Moments' extra art activity. Watch the video above for the instructions of what to do.
Be Kind to your families!
Miss Devlin 😎