Reception 2021 Admissions
Dear Parents,
Welcome to St Peter's. I am delighted that you have accepted the offer of a place for your child at our school.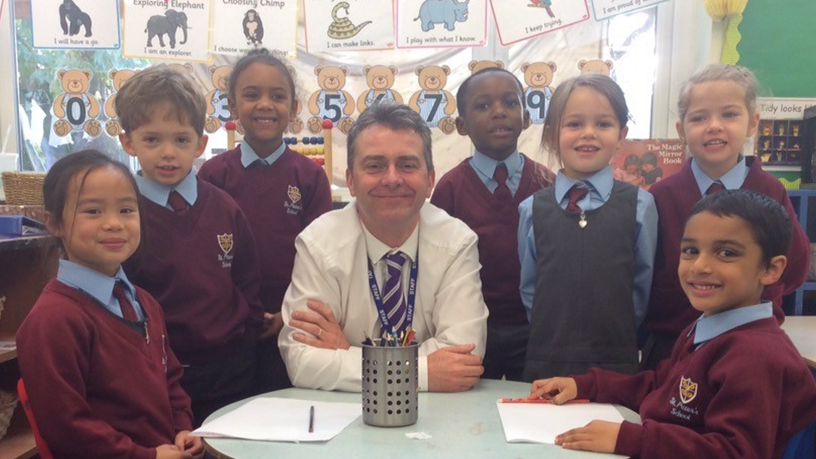 If you have any questions regarding your child starting school, the key people to contact if you need help or advice are:
For questions about the admissions process, information gathering or general enquires please contact the School Office: 01372 274913 or office@stpeters-leatherhead.surrey.sch.uk
If you think that your child might need additional support in school, if they have any additional needs or disabilities that were being supported at nursery, or for any question related to inclusion, please contact our SENCO, Mrs. Shabankareh: senco@stpeters-leatherhead.surrey.sch.uk
If you are considering whether your child should start school on a part time or full time basis or for any enquiry about our Reception Class provision, please contact our Early Years Lead, Mrs Hartfield: h.simmons@stpeters-leatherhead.surrey.sch.uk
You are also most welcome to contact me: head@stpeters-leatherhead.surrey.sch.uk
One of the things that St Peter's is known for is the strength of our community and our 'family' ethos. You are now part of that family and I look forward to welcoming you and your child to school in September.
With best wishes,
Richard McKenzie
Parent Information Session - 7th June 2021
If you were not able to join us, you can download the presentation below and also watch the recording here: https://zoom.us/rec/share/2BqREo21BoiE-QN3TDaO3DVVGFAUXAvuGVm0Ii7J5ikZ7xJY3taM_j4kYsplGZ3h.XjPZBVLbB8J0SyxV
Key Dates
The key dates for our induction program are also below. Mrs Hartfield will be able to explain more about whether your child will be in our morning or afternoon group for the 6th-8th September settling in sessions during the phone calls.
Thursday 17th & Friday 18th June - Phone calls to families, a chance to talk to staff about your child and any specific concerns you may have.
Friday 9th July - Storytime Session at school (sign up online https://www.tickettailor.com/events/stpeterscatholicprimaryschool2/)
Friday 3rd September -'Stay and Play' Small Group Sessions
(sign up online https://www.tickettailor.com/events/stpeterscatholicprimaryschool2/)
Monday 6th, Tuesday 7th & Wednesday 8th September – Children attend for either the morning or afternoon session
Thursday 9th & Friday 10th September –ALL children in school for the morning and lunchtime (collect at 12.30pm)
Monday 13th September – Children start school on either a full time (collect at 3.20pm) or a part time (collect at 12 noon) basis according to parental preference.