Science
Science has changed our lives and is vital to the world's future prosperity, and all pupils should be taught essential aspects of the knowledge, methods, processes and uses of science. A high-quality science education provides the foundations for understanding the world through the specific disciplines of biology, chemistry and physics.
Through building up a body of key foundational knowledge and concepts, pupils should be encouraged to recognise the power of rational explanation and develop a sense of excitement and curiosity about natural phenomena. They should be encouraged to understand how science can be used to explain what is occurring, predict how things will behave, and analyse causes.
We follow the National Curriculum for Science. The programmes of study for key stage one and two can be found below:
Science at St Peter's
The Science Principles. which outline what science teaching and learning should be like at St Peters, were drawn up using input from teachers, pupils and governors.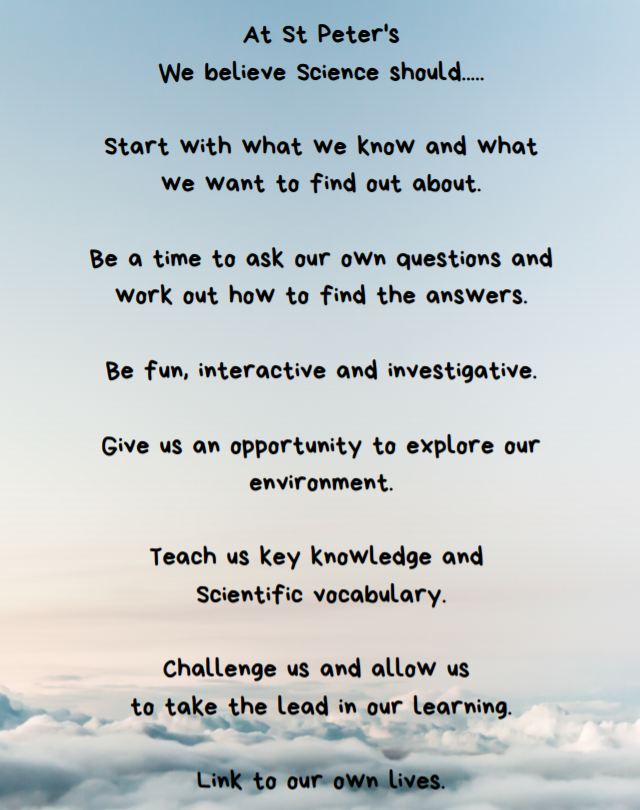 Click here to download the St Peter's Science Principles Poster.
We use the Kent Scheme of Work as our framework for our curriculum coverage, but teachers base their teaching on children's prior experience and knowledge, what they need to know and what they are curious to find out about.
In every module, key knowledge and vocabulary is taught as outlined in knowledge organisers. KS1 embed their science learning as part of their continuous provision.
In the past, we have worked with Dr Harvey from Royal Holloway College, and we have strong links with St John's School, who provide use of labs and workshops for each KS2 class.
We also work with SATRO, a long-established educational charity working across the South East, inspiring and engaging young people in Science. SATRO offer workshops to KS2 funded by ExxonMobil. We have good links with St Andrew's Secondary School who provide transition activities involving science for Year 6.
We work in close collaboration with the other Science Leads in our Deanery to constantly update and improve our teaching and learning.
---
Pupil 'Science Ambassadors'
---
Enthusiastic scientists are chosen to raise the profile of Science in School, to initiate competitions and give feedback about the science that is going on in their classrooms.
They get the chance to lead science investigations for their fellow science ambassadors to take part in. They are soon to take part in Science 'busking' sessions to set up
pop-up lunchtime science sessions for children to take part in.
---
Discovery Bags and Home Learning
---
The purpose of these is to improve our 'scientific capital', making science relevant to the children's lives and helping them to realise that science doesn't just happen in the classroom.
We have a Science Discovery pet for each class and children take turns taking the pet home to be involved in science investigations in KS1. In KS2 the children have the option also of investigating a famous scientist or important scientific piece of research. They then come and share their work, findings and learning with their class.
---
Science Week
---
In Science Week, we follow a theme to involve the whole school from Year 6 to Year R. It is a great opportunity for pupils to immerse themselves in scientific learning, to think of their own enquiry based learning and share what they have learnt across year groups. It also gives a great opportunity for developing and exploring cross-curricular links in greater depth.
Last year's theme was 'Space' with the whole school experiencing the 'Starlab' Planetarium from the Outlook Centre, Bracknell. Links were developed between learning in History and Science.
This year's theme will be 'Plastics and Oceans' which will enable great links between Geography and Science. We will be involving lots of Environmental groups, eg. Marine Conservation Society and Kidsagainstplastic.
Part of the Science week is the ever-expanding Science Fair, which offers the chance for parents/carers to be involved and set up a stall showcasing a scientific activity. It can be an investigation, some research or even a creature. The rest of the school has the opportunity to come and experience, learn and discuss the science they can see.
---
STEM Science clubs
---
We offer highly successful and very popular Science clubs. Children complete a series of investigations to achieve the Star Crest award in KS1 and Superstar Crest Award in KS2.
They focus on problem-solving in STEM and offer hands-on learning with challenges that focus on the children's everyday lives.