Wednesday Worship - 6th May
Fourth Sunday of Easter
This Sunday is traditionally known as 'Good Shepherd Sunday'. Jesus is the Good Shepherd who leads us into the joys of eternal life.
Part of a shepherd's job is to look after the sheep and help them to stay safe. When we let Jesus lead us, just as a shepherd leads his sheep, he helps us to make the right choices and fills our lives with goodness and holiness. All we need to do is to follow him.
In this week's worship think about how you can live in a way which pleases God.
We will start our worship with a prayer…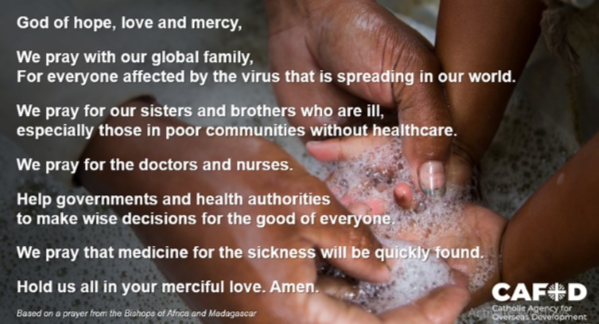 Today Jesus tells us that he has come so that we may have life in all its fullness. But what does it mean to live life to the full? Let's think some more about this today…

Before we hear the Gospel, we sing our special Alleluia song.
You can read the Gospel yourself, or ask a grown up or older brother or sister to read it to you.
A reading from the Gospel of St John
Jesus said, "I am telling you the truth: the man who does not enter the sheepfold by the gate, but climbs in some other way, is a thief and a robber. The man who goes in through the gate is the shepherd of the sheep. The gatekeeper opens the gate for him; the sheep hear his voice as he calls his own sheep by name, and he leads them out. When he has brought them out, he goes ahead of them, and the sheep follow him, because they know his voice. They will not follow someone else; instead, they will run away from such a person, because they do not know his voice."
Jesus told them this parable, but they did not understand what he meant.
So Jesus said again, "I am telling you the truth: I am the gate for the sheep. All others who came before me are thieves and robbers, but the sheep did not listen to them. I am the gate. Whoever comes in by me will be saved; they will come in and go out and find pasture. The thief comes only in order to steal, kill, and destroy. I have come in order that you might have life — life in all its fullness.

(Gospel: John 10:1-10 passage taken from Good News Translation® and used with permission)
Think quietly for a moment about the words that you have just heard.
When we really know Jesus and how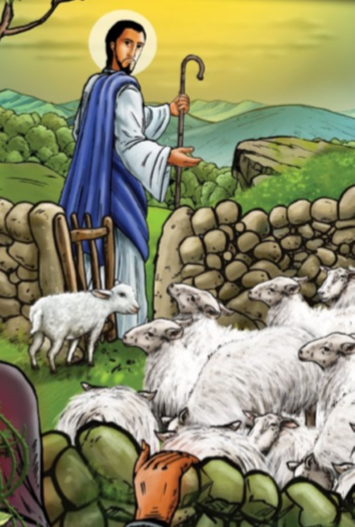 much he loves us, it's natural to want to follow him. By following Jesus, we too can help others to know and love God – to experience the fullness of life, to live in God's love - here and now!
Think or talk together about these questions:
In today's reading Jesus tells us a parable in which he is the gate which takes us to God.
· Can you remember what Jesus says, right at the end of today's gospel?
· What do you think it means to have life in all its fullness?
· What gifts and talents do you have? What are you good at?
Picture: The Wednesday Word ®
Let's think together…
We can follow Jesus in the simple things we do in our lives every day, We can follow Jesus in the simple things we do in our lives every day, and make life better for all the family and everyone around us.
· How can and make life better for all the family and everyone around us. How can we follow Jesus the Good Shepherd this week?

· Perhaps we can: be kind and contact a friend to see how they are doing at this time; go out of our way to help out at home; show others how to do the right thing and avoid what is wrong; listen carefully to wise and good people; show our gratitude to all those who teach and lead us through life.
Closing prayer:
God of life in all its fullness, be with us as we try to be the best people we can be. Inspire us to help one another to use the gifts and talents you have given us, so that the world may be a better place, reflecting the glory of your Kingdom. Amen.
Going Forth…
Let's try to follow Jesus this week by leaving behind anything which we know is not right and then try to do all the good we can.
Closing Hymn: Song: I Live I Live Because He Is Risen
Album : The Worship Collection ( Vol-08)
Activity: Why not colour the gospel picture below?